Alzheimer's and Dementia Care in Austin, TX
The kind of care you'd want for yourself.
At the Arbour Health Center, we recognize that whatever the cause of memory loss, it affects more than just one person. Whether it's Alzheimer's or other types of dementia, we work with residents, family members and caregivers to create the perfect balance of day-to-day respect and care.
If you're looking for world-class memory care services in Austin, Texas, look no further than Westminster. Fill out the form on this page to request more information.
Meaningful moments. More fulfilling days.
Our memory care services are delivered in a way that helps your loved one experience more meaningful moments and more fulfilling days. We call this Heartfelt CONNECTIONS, and it's a part of the LCS Signature Program.
Heartfelt CONNECTIONS is a nationally recognized, person centered, activity-focused memory care program that is grounded in the knowledge that the abilities that remain for an individual impacted by Alzheimer's or other forms of dementia are much more important than what is lost. By leveraging this specialized dementia care, we help loved ones capture a lasting legacy about each resident's family, their friends, career, hobbies, likes and dislikes, and then apply these insights to individualized programming for the resident. Through this program, we focus on each resident's unique abilities, enriching lives and creating success stories one small victory at a time.
Memory Care Services
Our Alzheimer's and dementia care services, in partnership with Heartfelt CONNECTIONS, provides the right level of care for every resident.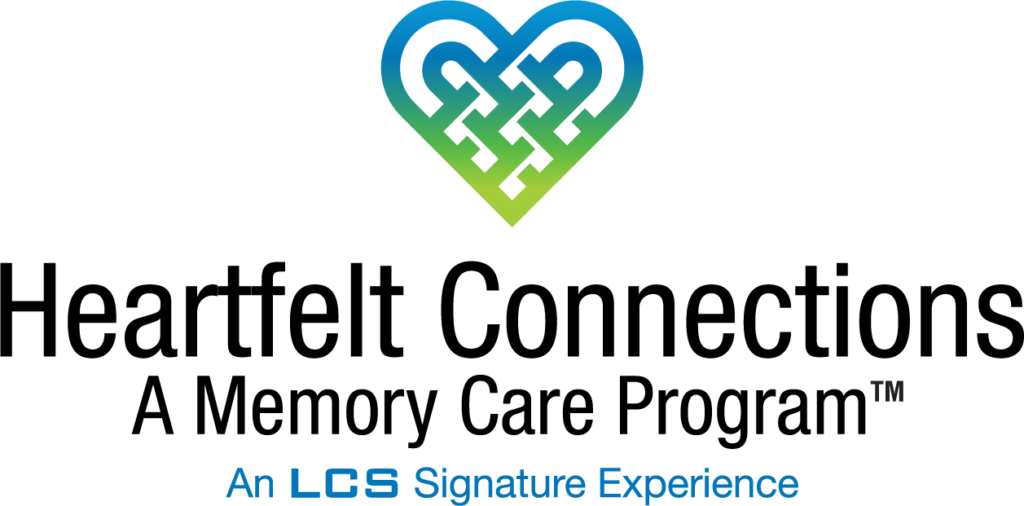 Industry-leading, person-centered memory care
Music & art therapy
Aromatherapy
Pet therapy
Small group activities tailored to each residents' capabilities to foster self-confidence
Devices to stay connected with family and friends
Licensed nursing staff on site 24/7

Medication administration
Assistance with activities of daily living
Chef prepared cuisine to meet special dietary needs
Emphasis placed on understanding and responding to each individual's wants and needs
Activities and socialization programming offered 24/7
Access to a full continuum of care
Benefits for Loved ones:
Dignity and a sense of pride and accomplishment in day-to-day activities
Engaged eating with dementia-specific menu offerings
Improved self-worth, self-esteem and overall well-being
Reduced fear, anxiety and frustration
Benefits for you:
Comfort and peace of mind knowing your loved one is being taken care of by the best
Ability to return to the loving relationship you once shared with your loved one
Relief from being the caregiver, allowing opportunity to make the most of your time together
Support for yourself and your family with resources, classes, counseling and other services as needed
Memory Care Amenities
We offer a range of amenities to create a more relaxed and soothing environment.
Well-designed, private suites
Comfortable, relaxing common living areas
Dining venue specifically appointed to address the needs of residents

Secure garden courtyard
Beauty salon/barbershop
FAQ
How does memory care differ from assisted living?
Patients who are cognitively challenged require more attention and a higher level of security than residents in independent living, skilled nursing or assisted living. Memory care residences at The Arbour are carefully designed to ensure that residents feel safe and secure. Our program is structured to build confidence in an environment that promotes choice and celebrates accomplishments through familiar schedules and surroundings.
Do you offer direct admission for memory care?
As our health services are in high demand, at this time we only have limited availability in our assisted living, skilled nursing and memory care neighborhoods. If you'd like to know more about Westminster's Life Care program, which offers priority access to long-term care options, we'll be happy to answer your questions any time.