Assisted Living in Austin, TX
A little extra help can make a big difference.
It's usually a loved one who first notices that routine activities of daily living like housekeeping, shopping, cooking and especially driving become increasingly difficult. It's common to do an online search for an assisted living community, but it's important to know the differences between a typical senior care facility and a Life Care community like Westminster.
Assisted living at Westminster includes a private apartment and provides help in a way that's personal, one-on-one, and that allows people to feel comfortable, secure and independent. We create an atmosphere that invites social interaction and engagement in life, with just the right amount of support.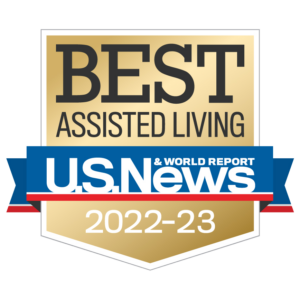 Just the right space for you.
Assisted living at The Arbour begins with a well-appointed private apartment.
Senior Care Services at The Arbour.
We offer a range of services designed to make daily life as normal and stress-free as possible.
Access to a licensed nurse on duty seven days a week
Personalized care plan to meet each resident's unique needs
Assistance with activities of daily living such as bathing and dressing
Weekly housekeeping and laundry services
Consulting medical director and registered dietitian
Community amenities.
Our additional amenities are designed to deliver comfort and encourage camaraderie.
One-bedroom private apartments
Private dining room for special occasions
Family-style living room

Spacious common areas
Beauty salon and barbershop
Creative art studio
FAQ
What is assisted living?
This service is characterized by a distinct combination of individualized care, familiar neighborhood surroundings and professional expertise. Our residents enjoy private one-bedroom apartments and are assured of ongoing wellness evaluations that address their specific needs. Our licensed, compassionate staff assists with activities of daily living and medication management as needed. The many community amenities available at Westminster help residents more easily enjoy what matters most to them.
How do I know if assisted living is required?
In general, it's best to start with a physician's assessment. Depending on the circumstances of your situation, or that of your loved one, you can match needs to the right level of assistance. When help with daily tasks is needed — taking medicines, bathing, dressing, meals, transportation and housekeeping — moving from independent living to an assisted living community can be the answer. Trained professionals provide this assistance while helping preserve an individual's independence.
What if someone needs more help than assisted living requires?
This is precisely why we offer a continuum of care. In addition to assisted living, The Arbour Health Center at Westminster offers memory care for those suffering with memory loss. Top-rated skilled nursing is also available. In addition to regular wellness evaluations, skilled nursing care at The Arbour Health Center offers licensed, comprehensive, round-the-clock care in private suites, for those recovering from illness or injury, or needing more long-term supervision and care.
Do you offer direct admission?
As our health services are in high demand, at this time we only have limited availability in our assisted living, skilled nursing and memory support neighborhoods. If you'd like to know more about Westminster's Life Care program, which offers priority access to long-term care options, we'll be happy to answer your questions any time.